Indian Jewelry Stores in Virginia
Gold, Diamond and Silver Jewelry
When it comes to buying Indian gold jewelry or biscuits, Virginia offers limited choice.
So if you are planning to buy bridal jewelry, engagement rings, pendants, bracelets, silver anklets, toe rings, special jewelry gift for your loved one or for a fesival, I recommend you visit Oak Tree Road in Edison, New Jersey or Jackson Heights in Queens, NYC.
There are plenty of Indian gold and diamond jewelry stores on Oak Tree Road in Iselin/Edison and on 74th St in Jackson Heights.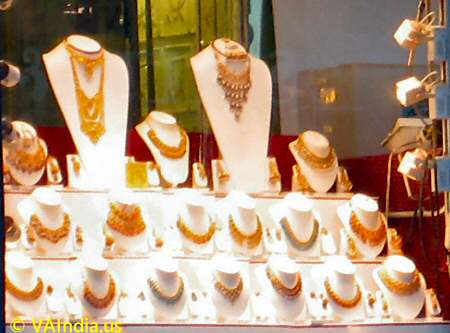 Besides the finished gold and silver jewelry, gemstones, bangles, the Oak Tree Road and Jackson Heights Indian jewelry stores also offer costume jewelry, puja items and small statues of Radha Krishna, Rama and fashion accessories.
Here are a few Indian jewerly stores in Virginia peddling Indian jewelry and gemstones:
Allure Jewels

Gold and Diamond Jewelry

Wedding Sets

Jewelry Repair

Children's Items
13884 Metrotech Dr
Chantilly, VA 20151


Ph: 703-961-0850





Swathi Jewelleries

Dance Costume Jewelry

Pendants, Antique Jewelry

Costume Jewelry Rentals
23397 Minerva Dr
Ashburn, VA 20148


Ph: 703-340-6222





Sonia Jewelry

22K Gold Jewelry, Engagement Rings

Bridal Jewelry, Bangels, Karras etc.
418 Elden St
Herndon, VA 20170


Ph: 703-742-0700